POCATELLO — An emporium of wild huckleberry lemonade, robin-egg blue birdhouses and potato-shaped plushies awaits anyone who walks into the little store on Cedar Street in Pocatello looking for anything and everything Idaho.
Once a small kiosk that got its start in 1990 in the Pine Ridge Mall, Idaho Unlimited is now a shop lined wall to wall with souvenirs, gifts and décor crafted from vendors primarily from the Gem State. Its diverse inventory has attracted everyone from foreign exchange students looking for homecoming souvenirs to locals searching for gifts for loved ones. The business also has a shop in the Pocatello airport, giving airline passengers a spot to buy souvenirs, travel necessities and snacks.
"This unique gift shop has such a wonderful selection of merchandise and a wide range of gifts, goods and many more things unique to Idaho," said Floreen Thyberg, who co-owns the souvenir and gift shop with her husband, Stan.
She's right. From raspberry jellies to afghan blankets threaded with Pocatello landmarks to jewel-colored wines sitting on a rack, the shop's abundance of items has cemented itself as a go-to location for anyone searching for gifts for the past 30 years.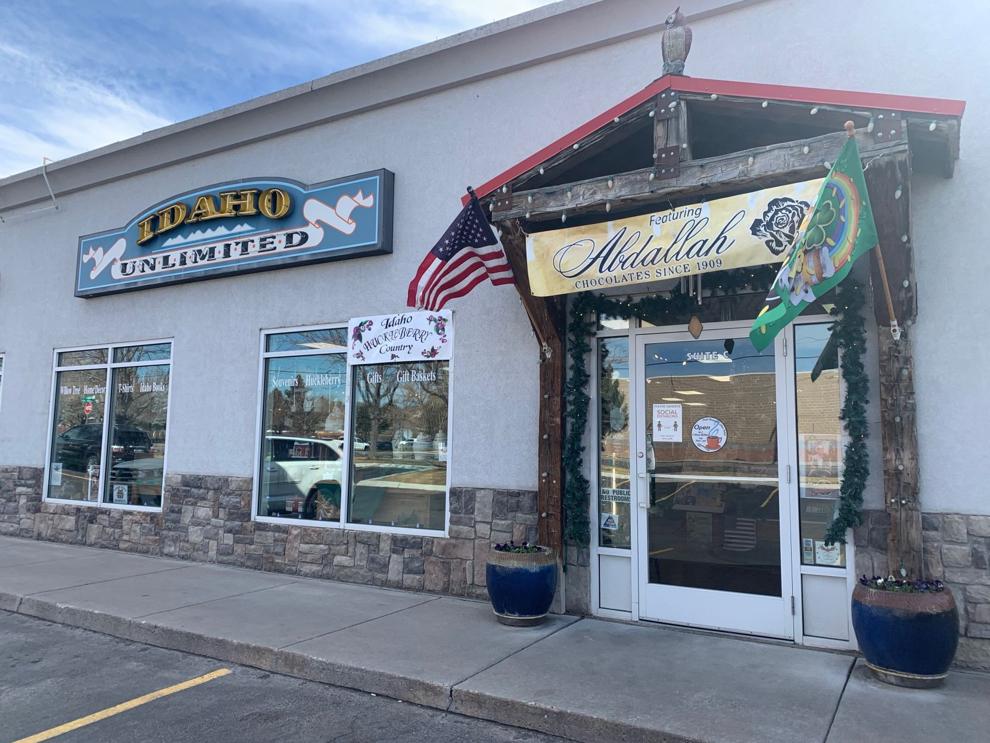 The shop offers everything from home and yard décor to organic lotions and soaps to Idaho-themed apparel.
Yet those perusing the store might notice one specific theme of item that Thyberg takes pride in: huckleberries. Customers can browse shelving stocked with huckleberry-scented or -flavored items: candles, waffle mix, vinaigrette, even barbecue spices all tailored with the taste of the little purple berry.
In fact, its popularity has been so high that it's been bumped up to the store's No. 1 flavor among food products it sells.
"Huckleberry is Idaho's fruit," Thyberg said. "They are plump, purple berries that grow wild in the Rocky Mountains in the West. The berries have never been grown successfully commercially and must be handpicked one-by-one in the wild. … (They are) a very true delicacy, and they're for everyone looking for scrumptious taste."
A few other notable items they sell are Big Sky Carver wooden bear figurines, which are carved by Montana resident Jeff Fleming. While the items are not made in the Gem State, Thyberg said they fit the outdoor spirit of Idaho, along with Jim Shore collectables and Willow Tree figurines.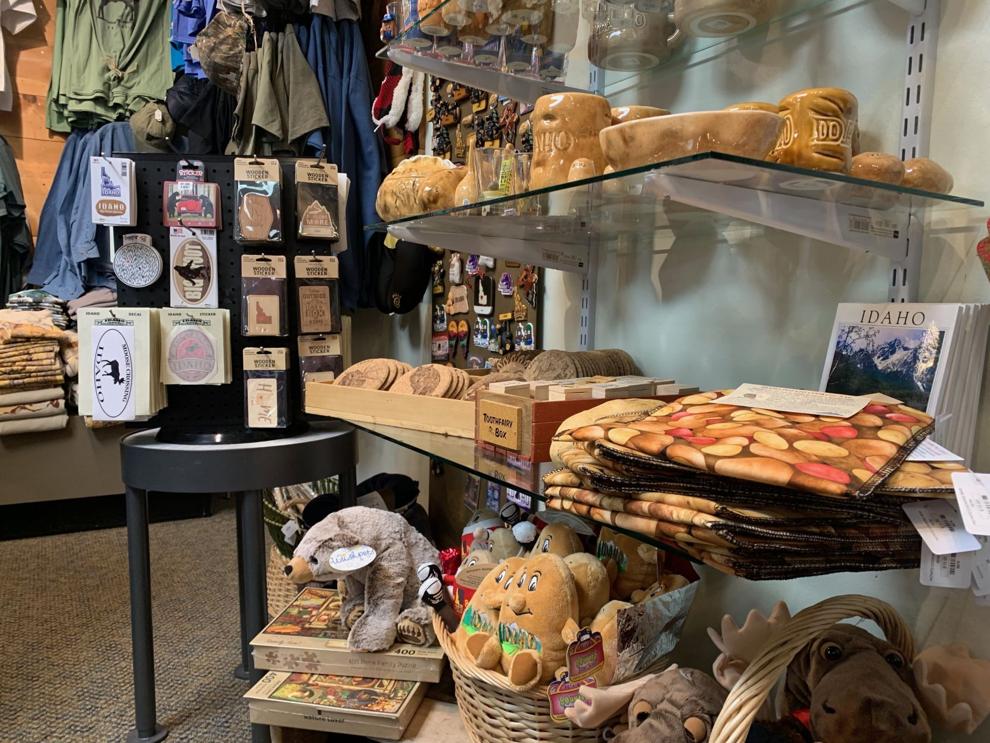 Other items includes wares that highlight Idaho's famed crop, including pre-wrapped Idaho potatoes from Blackfoot, potato-shaped mugs and Idaho Spud candy, which comes from the oldest candy company in Idaho.
They provide free gift wrapping, and if anyone wants to pop in for an Italian soda or a cup of coffee, they also have a selection of flavors to choose from.
Even their customers can be as diverse as their merchandise. They see anyone from fishermen to missionaries to tourists, as well as collectors who will stop by to browse their selection of decorations.
Thyberg said one customer has a collection of approximately 300 salt and pepper shakers and will visit regularly to view their new inventory.
Other times they'll get grandmothers stopping in, explaining that their grandchildren from out of state have sent them a "Flat Stanley," which is a letter-writing project that encourages young children to write to others around the world and receive letters and gifts in return.
These grandmothers will search for Idaho-themed gifts to send back to their grandchildren.
"It's also fun to get schoolteachers in because they get postcards and all kinds of stuff," Thyberg said.
In addition to individuals in search of gifts, Idaho Unlimited has also taken corporate orders for businesses. She recounts one occasion when they received an order to put together about 150 gift baskets in two days right before Christmas.
"We started in on Sunday and we had them out of here on Tuesday night and Christmas was that Saturday," she said. "And (the gift baskets) were absolutely just gorgeous. They were so gorgeous. And we were like little elves over here."
It is seeing and serving this vast range of customers that makes both the Idaho Unlimited owners and their employees love working at the souvenir and gift shop.
"There's a story behind everybody," Thyberg said. "It's amazing what stories you get out from everybody."
For anyone interested in poking their head into Idaho Unlimited, the store is located at 215 E. Cedar St., Suite C. For those who'd prefer to browse online, visit their website at idahounlimitedgifts.com, or call 208-237-0749 for more options.
The store is open from 7:30 a.m. to 6 p.m. Monday through Friday and from 9 a.m. to 6 p.m. on Saturday. The shop is closed on Sundays except during certain holiday seasons.